Mostly Smoked Fish Selection - Large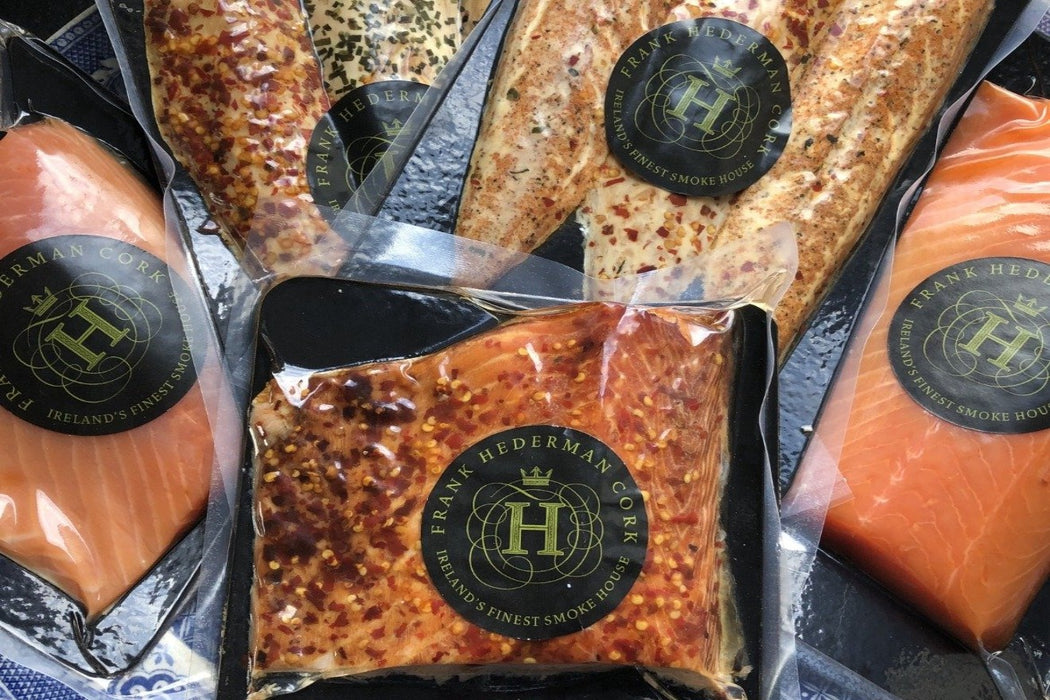 ONLY AVAILABLE FOR DELIVERY IN IRELAND, NORTH IRELAND AND EUROPE.
Trust us to select the best of what we have on offer from the smoked fish we offer online, but please feel free to state any preferences/dislikes in the 'additional information' box when you place your order.
For anyone living outside Cork, or who is unable to 'click and collect' this is the ideal way to enjoy a vicarious visit to our farmers market stalls. Trust us to include the best of what's on offer at the time you order.
If you are a Click & Collect customer and you require alternative gift packaging, please contact us at shipping@frankhederman.com
Unfortunately we cannot include our short–shelf life products, such as pates and fishcakes, but all our core ingredients transport well.
If there's any item you'd really rather not have, then let us know and we will make it up to you with another product. (please use 'additional notes' when completing shipping information.)
STORAGE
Please follow storage & shelf life advice as per labels
EXTRA INFORMATION
IRELAND THE SEAFOOD ISLAND
 "You can't separate the artisan food business in Ireland from our geography… our landscape is at the heart of what we create. What we have in Ireland is wonderful raw material and we have the skills to bring those raw materials on, through husbandry" 
FRANK HEDERMAN
Looking for inspiration?
Check out our recipes for expert hints & tips on preparing your salmon. Whether it's for a dinner party or Sunday brunch, we have over 50 delicious recipes for you to try.
All Recipes