C&C - Whole Smoked Irish Mackerel x2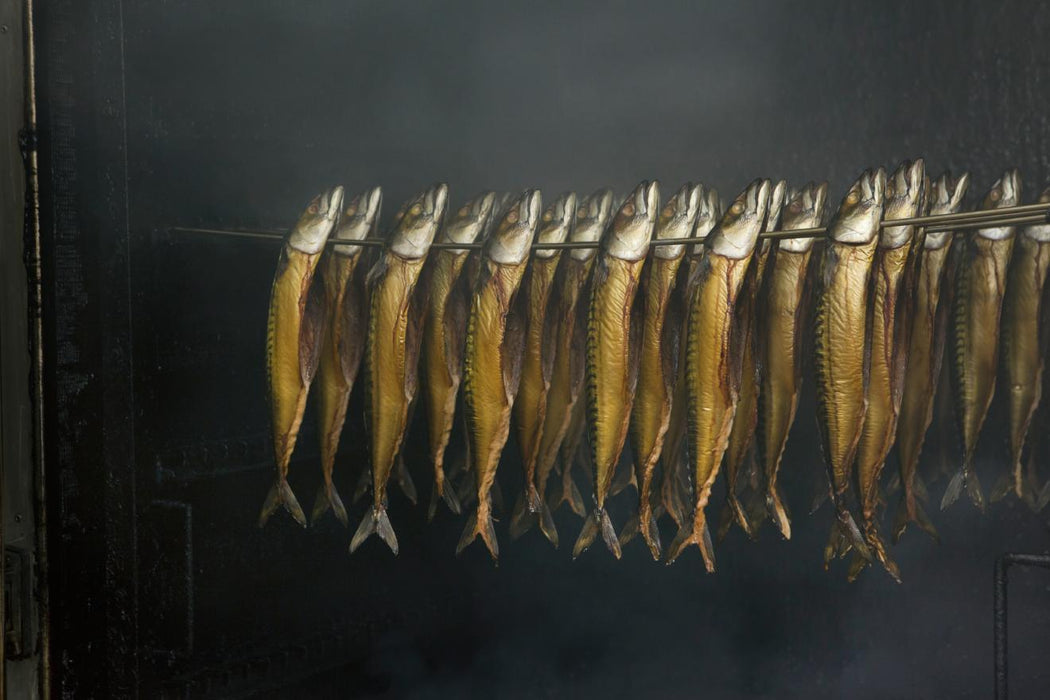 ** Click & Collect only **
A pair of freshly smoked Irish mackerel, hot smoked on the bone with beechwood smoke. *
Smoked mackerel are produced using the hot smoked method – that is, cooked and smoked simultaneously – after brining. Whole smoked mackerel are particularly succulent and delicious because they are effectively cooked on the bone. Their skins takes on a beautiful golden patina in the smoker, so they make a particularly eye–catching display as part of a large seafood platter.
ORIGIN
Caught at sea, NW Coast of North Ireland & Scotland
INGREDIENTS
 (ALLERGENS IN BOLD)
Irish Mackerel FISH (Scomber scombrus) 97%, salt 3%, beechwood smoke & seasonings
may contain bones
STORAGE
Refrigerate 0-4C
Bring to room temperature before serving.
How to prepare smoked mackerel
These are ready to eat, but can be heated through gently in an oven. These are smoked whole on the bone, but the additional succulence makes the job of removing the bones worthwhile! Always bring the smoked mackerel to room temperature before serving.
IRELAND THE SEAFOOD ISLAND
 "You can't separate the artisan food business in Ireland from our geography… our landscape is at the heart of what we create. What we have in Ireland is wonderful raw material and we have the skills to bring those raw materials on, through husbandry" 
FRANK HEDERMAN
Looking for inspiration?
Check out our recipes for expert hints & tips on preparing your salmon. Whether it's for a dinner party or Sunday brunch, we have over 50 delicious recipes for you to try.
All Recipes